The Trap is a series of three films by Bafta-winning producer Adam Curtis that explains the origins of our contemporary, narrow idea of freedom.
It shows how a simplistic model of human beings as self-seeking, almost robotic, creatures led to today's idea of freedom. This model was derived from ideas and techniques developed by nuclear strategists during the Cold War to control the behaviour of the Soviet enemy.
Mathematicians such as John Nash developed paranoid game theories whose equations required people to be seen as selfish and isolated creatures, constantly monitoring each other suspiciously always intent on their own advantage.
This model was then developed by genetic biologists, anthropologists, radical psychiatrists and free market economists, and has come to dominate both political thinking since the Seventies and the way people think about themselves as human beings.
However, within this simplistic idea lay the seeds of new forms of control. And what people have forgotten is that there are other ideas of freedom. We are, says Curtis, in a trap of our own making that controls us, deprives us of meaning and causes death and chaos abroad.
Anglické znění.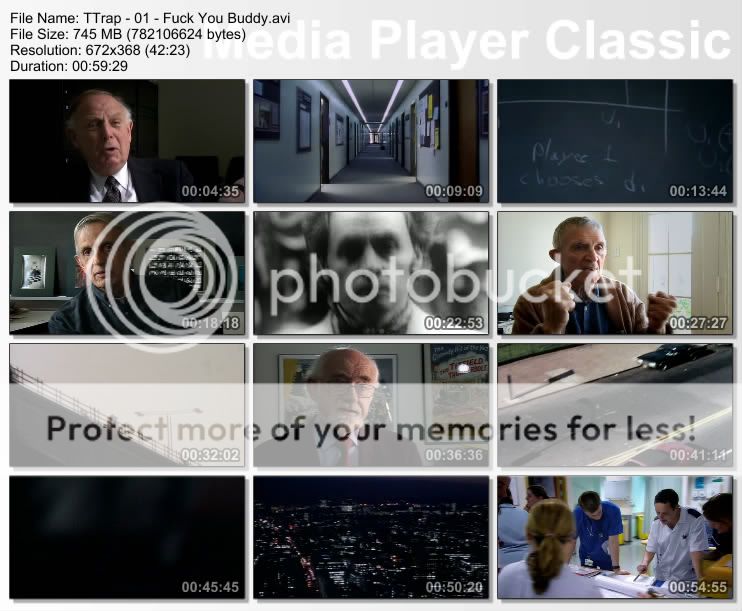 http://www.filefactory.com/file/cdcdcbe/n/TTrap_-_01_-_Fuck_You_Buddy.avi
http://www.filefactory.com/file/cdcdc2c/n/TTrap_-_02_-_The_Lonely_Robot_v2.avi
http://www.filefactory.com/file/cdcdc84/n/TTrap_-_03_-_We_Will_Force_You_To_Be_Free.avi